Questions and answers
How can the students log onto the game?
For the students' progress to be saved, they need to log onto the game using a personal token, which consists of six letters. To find these tokens, go to the class dashboard page and select the Students tab: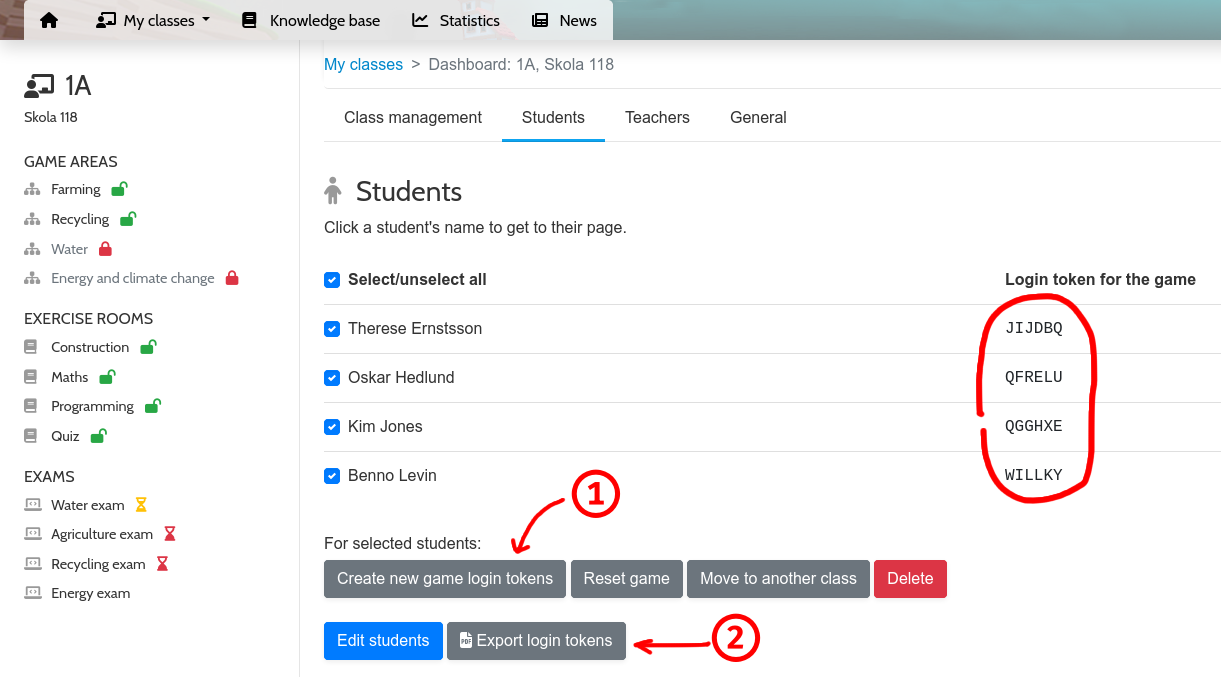 There you will see a list of the class's students and their login tokens. Should any students miss tokens, or need new ones, you can select these students and press the Create new login tokens button [1] (provided that the class or school has a valid and sufficient license). This will not cause any of the students' previous progress to get lost.
Pressing Export login tokens [2] lets you export the class' login tokens to a couple of different printable PDF formats.
Using their login tokens, the students may log onto the game on different devices and still continue where they left off.
How can I log onto the game?
As a teacher you can, just like your students, log in to the game with a personal six-letter token. You will find this token on the class overview page here in the LMS (under the Teacher heading) , as well as on your profile page. Or just press the Start the game button at the top.
Can a student play on the school's device and also on their phone at home?
Sure, just as long as they use their login token (see above).
What is the "knowledge base"?
The knowledge base is a part of the LMS where we collect the educational content the students meet in Grow Planet, like short videos they get to watch, and "knowledge cards" they collect. You will always find it in the main menu.
How do I add/remove students?
At the bottom of the class overview page, you will find a button called Edit class and students. There you may change the class's name and grade as well as add, remove, and change the names of students.

Press [1] to add some empty rows, if you need to add more students. If there are too many rows, just leave the last of them empty.
Check [2] to completely remove a student. Note that all their saved game activity will also be lost.
If you need to remove one student and add a new one, it may be tempting to just change the name of the old student to the name of the new one. However, this would cause the new student to "inherit" the old one's game activity, so don't do that. Instead, check delete [2] for the student to be removed, and add the new student on a new row.